CAMDENBOSS UNVEILS INVESTMENT IN INJECTION MOULDING CAPABILITY
Injection Moulding investment solidifies CamdenBoss commitment to bringing manufacturing back to the UK, based at their 118,530 sq.ft Mildenhall HQ site.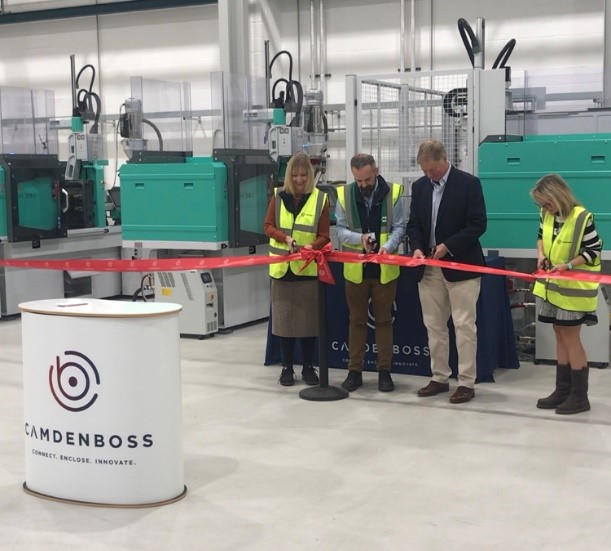 Norfolk & Suffolk, October 26, 2022 CamdenBoss officially unveiled its investment in state-of-the-art injection moulding technology, marking its commitment to UK manufacturing and providing a more resilient supply chain to their customers.  This investment follows their move in 2021 to the impressive Galaxy Building in Mildenhall, Suffolk, where design, warehousing and manufacturing operations are co-located to meet their customers' requirements across electro-mechanical components, flat sheet plastic custom enclosures and now injection moulded enclosures. 
"The investment in the latest technology is a very important and exciting development for CamdenBoss, which clearly demonstrates our commitment to delivering for our customers, to manufacturing in the UK, contributing to upskilling our local workforce and reducing our carbon footprint", said James Buckle, owner of Heathpatch Limited, announcing details of the Mildenhall site investment. 
The company selected the latest electric Arburg equipment which, along with the company's recent investment in solar power and reduced transport mileage by manufacturing on-site, significantly reduces the carbon footprint of its operations and accelerates CamdenBoss' transition to net zero. 
Katy Davies, Managing Director of CamdenBoss, said, "CamdenBoss has been committed to repatriating its injection moulding to the UK for several years, and this investment takes us to the next level of producing as much as possible as locally as possible to support our growing customer base efficiently, effectively and with greater resilience. It also allows us to develop the skills of our people through apprenticeships while cementing our commitment to reducing our environmental impact." 
CamdenBoss employs 120 people in Mildenhall, Suffolk as the UK's leading manufacturer of injection moulded and flat sheet plastic enclosures and e-mech components. It has over 50 years' experience in design and manufacture, working with customers and distributors alike to develop innovative solutions for their enclosure design requirements from product design stage right up to modification. 
Further information about CamdenBoss, its commitment to UK manufacturing and skills, its products and capabilities can be viewed on the company's website www.camdenboss.com  
No articles were found.
Connect.
Enclose.
Innovate.
For further information on products please contact our Sales Team:
Alternatively visit our distributors page to find your nearest stockist or download the latest CamdenBoss catalogues.