Finding the right enclosure for you
04/02/2020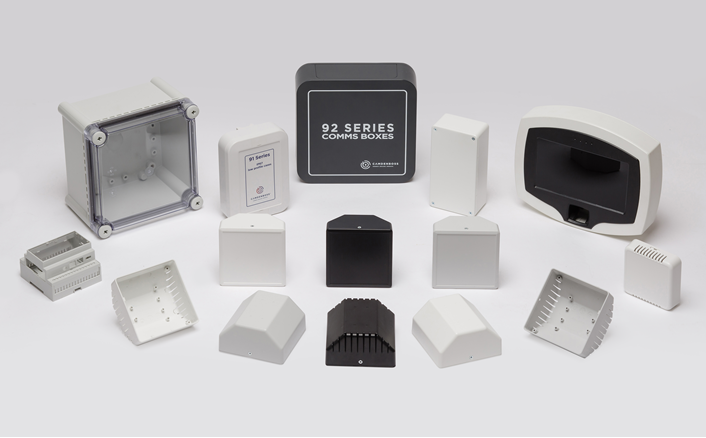 Specifying the correct enclosure onto your bill of materials can be as, if not more, important than the housed electronics and PCB assembly. Not only providing product identity, it also needs to provide protection and should be specified to the expected working environment. The choice of enclosure can either make-or-break the functionality of the end product, and therefore requires some degree of planning and research.
Enclosures are available to meet a huge variety of specifications, with manufacturers designing new products to target certain industries and applications. Such applications present their own environmental conditions and enclosures must therefore be designed to meet these needs.
For example, the requirement of an indoor enclosure will be different to an enclosure equipped for working outdoors. Outdoor enclosures come into contact with the elements, in the form of water and ultra-violet radiation, and must be able to withstand these. Equally, an ergonomically shaped housing will perform better than a large rugged enclosure as a handheld device.
Selecting the material is a good place to start when specifying an enclosure. Plastic housings are generally cheaper than metal boxes, whilst providing a good level of protection against impact and chemicals; some offer a good level of UV protection, for example polycarbonate or ASA. Plastic housings are also very easy to machine and customise. Assuming the enclosure is designed accordingly, plastic enclosures can provide the highest levels of ingress protection (IP). As such, plastic is a good choice for a vast selection of applications.
Diecast or extruded aluminium enclosures, however, have useful benefits. Their tough build provides a solid and highly protective layer. Like plastic housings, they can be manufactured to include a high IP seal to function in harsh remote environments or busy industrial sites. Aluminium is conductive so provides a natural EMI/RFI barrier that can be further enhanced increased with a special coating. This characteristic is desirable for many electronic applications, where sensitive components require protection against interference and to ensure their operation is not affected. Extruded metal enclosures can be designed with heat sink 'fins' on the external walls, increasing the surface area and therefore heat transfer to help reduce the heat that builds up inside. Heat sink features can reduce the need to utilise fans therefore keeping the enclosure sealed, should it need to be used outdoors.
Some enclosure standards remain relatively stable as industry standards have developed allowing certain features to be used on a global scale. For example, rack mounted technology uses 19" enclosures so that they can easily mounted in cabinets. This universal manufacturing specification means that for networking OEM's, new products will fit old and existing rack cabinets anywhere in the world.
With the rise of industry 4.0 and IoT; factory automation, industrial control and centralised networking systems are becoming more popular. Powerful smart electronics communicate, monitor and distribute power and information around a factory in order to increase productivity by such things as monitoring the run times of machinery and spotting any faults that may occur in the future. These smart electronics can make excellent use of a time old system, DIN Rails. DIN Rail systems may be mounted within robust enclosures equipped with mounting points for the rails. Electronic units to be mounted on the rails require housings that are moulded or formed with 35mm DIN Rail slots on the base, allowing them to be easily mounted and removed. Many incorporate terminal spaces, so that connection methods can be used in the form of terminal blocks, RJ45s, IEC power cables and more.
Our digitally connected world requires electronic devices to be housed in outdoor spaces just as much as it does on indoor equipment. Applications such as broadband, environmental research, WiFi expansion and communications depend on these types of enclosures. These expensive pieces of equipment contain highly sensitive electronic components that are expected to perform reliably for large periods of time. Numerous hazards represent a threat to these assemblies such as; water, rain or snow, UV radiation, low or high temperatures, corrosion dirt or debris ingress and submersion.
It is also worth asking yourself whether a standard, off-the-shelf product is going to be a feasible option. Enclosures are manufactured in thousands of styles, to which you need to find the right match to suit your needs. With CamdenBoss' Smartboxx custom enclosures, you pick the requirements, and the housing is made to your specification. Therefore, you end up with a product tailored to your exact needs and bespoke to your company. There are no tooling costs involved and this represents a fast and cost-effective solution, with rapid prototypes and a short time to market. Allowing you to test a market before completely committing to moulded design.
The enclosure selection process will always be an R&D step that should be carefully considered and tested. Without these steps in place, product failures can be costly and design changes even more so, especially when we factor in delays to market and the time invested. 
Understanding the market that your product will operate in and the environmental factors that will come into play, can set you on the right path to a more informed decision.
CamdenBoss offering an extensive range of enclosures, from heavy duty industrial housings to versatile sensor/IoT boxes and unrivalled tool free solutions. Their wide selection of affordable, quality assured products is just one reason why engineers are making the switch to CamdenBoss. Is it about time you did too?
Call our sales team today on 01638 716101 or visit our website www.camdenboss.com/camdenboss-enclosure-range
CamdenBoss Ltd, 60 James Carter Road, Mildenhall, Suffolk, IP28 7DE, UK    
+44 (0) 1638 716101
sales@camdenboss.com
Follow us on our social channels to stay up to date with CamdenBoss   
Connect.
Enclose.
Innovate.
For further information on products please contact our Sales Team:
Alternatively visit our distributors page to find your nearest stockist or download the latest CamdenBoss catalogues.