Consultation
This waterproof camera had very specific design criteria to meet set application and functional requirements. Utilising our tool free process, this complex and aesthetically pleasing design was achieved with minimal development costs.
Product Development
Placed in outdoor surroundings, its primary function is to detect and then record unwanted movement within its proximity. Designed to IP67, this custom plastic enclosure has a built-in hinged access door at the bottom protecting its PCB comms ports.  An infrared transparent black acrylic window is solvent bonded inside the enclosure. This restricts ultraviolet and visible light from affecting internal sensors, whilst allowing infrared night vision
Final Solution
Our flexible design service enabled our customer to produce two variants of this enclosure, each customised to suit specific hardware.  Batch production made full use of our digital printing solution to achieve its unique camo effect styling.
Manufactured from 3mm, 4mm & 6mm Black High Impact Polystyrene (HIPS) 3mm IR-Transparent Black Acrylic
Product Size: W: 96mm   D: 55mm   H: 190mm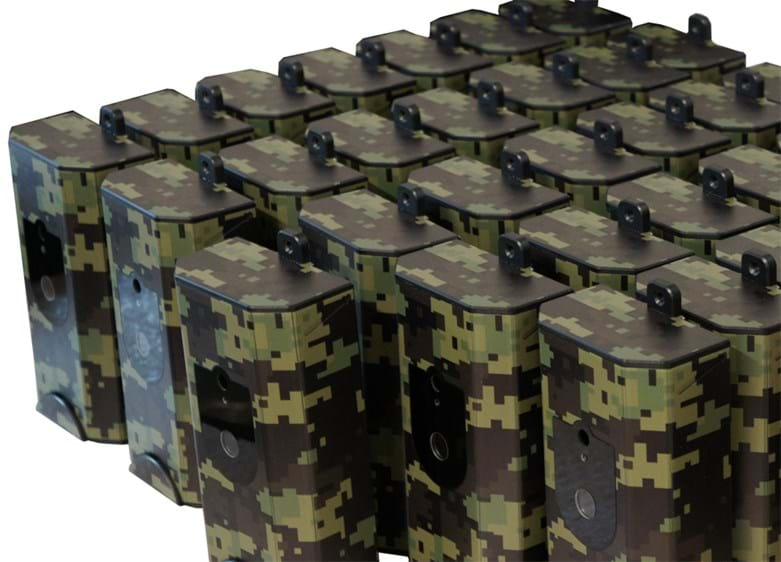 Call us today on 01638 716101 to discuss your project.
Connect.
Enclose.
Innovate.
For further information on products please contact our Sales Team:
Alternatively visit our distributors page to find your nearest stockist or download the latest CamdenBoss catalogues.