Enhanced customer experience with new search and filters
04/03/2021

CamdenBoss have enhanced their search and filter system to optimise their website for an even better, more controlled product search.
With the new system in place, not only are visitors able to locate enclosures that are suitable to them, based on certain parameters, customers can also quickly and easily see the large product offering from CamdenBoss.
By clicking the Quick Product Finder in the top bar, you can immediately search by 'enclosure', 'product series', 'part number' or 'keyword'.
The enclosure search enables you to tick a set of parameters suitable to your needs. For instance, by adding in dimensions and adjusting the tolerance, it allows you to browse the enclosures which fit your requirements.  You may prefer to browse by IP rating, just tick this option and the results will show (see example below).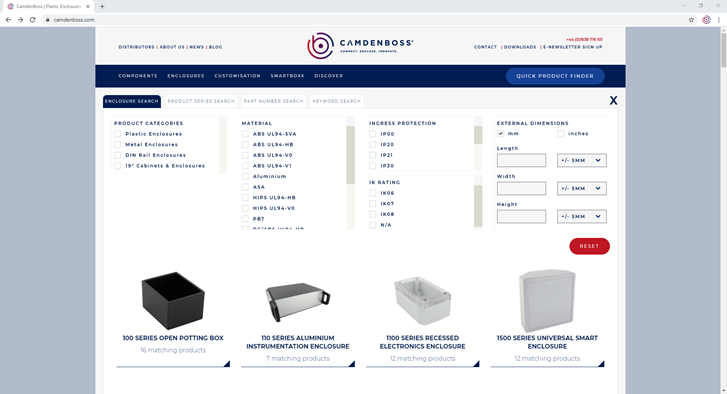 If you are already familiar with the CamdenBoss product series names, you can use the product series search to immediately get to your desired product. Simply use the drop-down menu to find the product you are after, or alternatively, start typing the start of the product series name to be taken directly to that series.
In addition to the product series search, there is also a new 'part number' search option. Simply start typing the part number and select the appropriate result.
We've also introduced a 'keyword search'. This is a versatile tool that can be used to search a keyword and the results are presented by either product or content.
Whilst these search options bring huge value to the way users are able to navigate the website, there is one more set of changes that will also help to quickly and easily find the right product for you.
Our filters now appear as soon as you click onto the enclosure section. Users are able to filter by protection (consisting of IP, UL and IK ratings), mounting types or lid styles etc.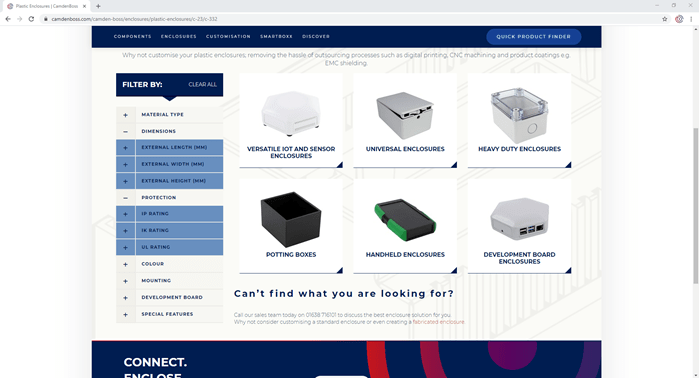 To get the optimum user experience, please ensure you are using the most up to date internet browsers.
With these changes we hope that our new and existing customers will be able to find their ideal enclosure quickly and easily. We'd love to hear what you think of these new filters, so get in touch via our social media platforms.
Our experienced technical sales team are always on hand to help with your enquiry. Call us today on +44 (0)1638 716101 or email us at sales@camdenboss.com
Connect.
Enclose.
Innovate.
For further information on products please contact our Sales Team:
Alternatively visit our distributors page to find your nearest stockist or download the latest CamdenBoss catalogues.