Airflow & Connectivity All In One Enclosure
09/03/2021

Applications and environments sometimes require the air conditioning of an electronic enclosure and its components to be taken into consideration. The life expectancy of the PCB components can be greatly improved and system maintenance/downtime kept to a minimum if appropriate steps are taken.
In this article we will explore the benefits of enclosure venting, the applications that make use of venting and how the Hex-Box IoT Enclosure uses customer-driven panel layouts to achieve flexible venting and connectivity.
Electrical and electronic enclosures have environmental challenges to address, which may limit which temperature control methods can be used. With this in mind, it is important to know which approaches are available. Techniques such as heaters, fans, heat-sink, coolers or simply just adequate venting can all be viable options to consider. Fans and embedded coolers provide a more forced ventilation method, whilst simple holes/vents and heat-sink plates and surfaces can be considered a passive form of enclosure ventilation.
So, what are the benefits of good ventilation? Good enclosure ventilation allows the free circulation of cool air into the enclosure whilst the warmer air that is generated inside the enclosure can escape. With this natural displacement of warm air with cool air, overheating is prevented, ensuring your components live out their lifespan. Not only is venting required for some enclosures to cool down, but ventilation can also reduce the build-up of moisture inside the enclosure.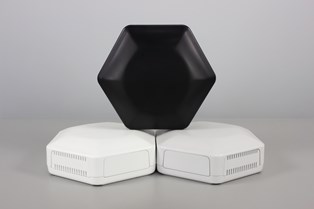 Many electronic applications use vents for different reasons, with some making use of vents in conventional ways and others in more unique ways. IoT-enabled electronics with sensor components can make use of vented enclosures to take readings from the environment they are set in. For example, smart thermostats, ambience and dangerous gas sensors will be able to make accurate and faster measurements if they are exposed to the factors they are built to sense. With these types of products taking measurements, equally the devices they are reporting to may also need to be vented. Server based electronics can receive and deal with constant data from production shop floors, offices, retail environments and even homes. These vital pieces of equipment need to retain a healthy working temperature as their downtime of system failures may cause major problems.
Manufactured for these types of applications, in particular industrial IoT, the Hex-Box IoT Enclosure is available with solid and vented panels in various options. With the six-sided hexagonal shape, the exact configuration of the panels can be decided by the user. Where the enclosure is to be used in a warm environment or thermal heat from components on the PCB is greater, all six panels can be vented to provide the best efficiency when it comes to allowing air to flow in and out of the enclosure. However, if moderate heat management is required, then users can opt for fewer vented panels, replacing these with solid panels. The interchangeable self-retaining solid and vented panels ensures the most effective form of venting and connections can be achieved. With this flexible configuration in airflow or component positioning, the Hex-Box IoT Enclosure offers minimal restrictions on layout, environment and application.
If you are looking to design an industrial IoT-enabled device that requires venting options as standard, then the Hex-Box IoT Enclosure may be what you are looking for.
Click here to watch the video on our Hex-Box IoT Enclosure's connectivity and airflow benefits.
The full range can be found on our website or alternatively get in touch with our sales team on 01638 716101 to discuss your future project.
Connect.
Enclose.
Innovate.
For further information on products please contact our Sales Team:
Alternatively visit our distributors page to find your nearest stockist or download the latest CamdenBoss catalogues.