We supply the case, you add the filling!
19/01/2021

The Raspberry Pi board, whilst small, is one of technology enthusiasts' favourite piece of equipment. From programmable leisure projects such as fun games for children or acting as a low power portable PC to browse the web in environments such as camper vans for trips during the summer holidays. With so much potential packed into the credit card sized computer, it is only fitting that you give it a suitable home, whether it is mounted on a desk or wall.
With so much potential, CamdenBoss acknowledges the importance of their popular and latest enclosure solutions being compatible for use with the Raspberry Pi boards. They understand customers' needs to house permanent set-ups and to give them new and exciting enclosures for their Pi boards.
Functionality is key and the chosen housing must suit the user's requirements by offering cable outlets, mounting options, whilst remaining flexible. CamdenBoss' latest enclosure solution, the Hex-Box Pi Ready Enclosure takes these aspects into consideration and has been carefully developed into a kit that provides all that is required to get you set up, just add the filling!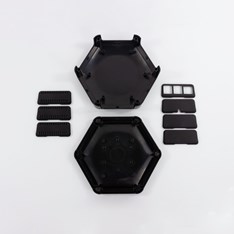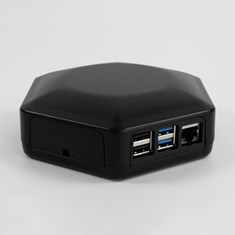 As with the standard Hex-Box IoT Enclosure, the Raspberry Pi version has six openings where self-retaining panels can be inserted. The Raspberry Pi ready option is supplied with seven panels, two of which have been pre-customised to allow for standard connections to be made. The front facing panel has RJ45 and USB cut outs and the second panel has a small hole for the power cable to exit from. The remaining four sides can be used with the vented and solid panels supplied, in the configuration that works for you. An additional solid panel is supplied so that those who decide to use PoE, can do so.
When paired with the unique Circular Wall Mount Bracket, the enclosure provides an easy installation with an inventive twist release mechanism. The bracket features a number of different mounting methods, including slots for static, fixed surface mounting, as well as keyhole slots for fast dismount.
The Hex-Box IoT Enclosures are available in either black, white or grey and can be purchased in volume directly from CamdenBoss.
Call our sales team today to discuss your requirement on 01638 716101 or visit our product pages to find out more.                            
Connect.
Enclose.
Innovate.
For further information on products please contact our Sales Team:
Alternatively visit our distributors page to find your nearest stockist or download the latest CamdenBoss catalogues.