Creating more than just a standard off the shelf enclosure
05/01/2021

Most electronic equipment starts life as a simple off-the-shelf enclosure, with the exception of fully custom and bespoke enclosures that can either be fabricated from flat sheet plastic, using our fabricated manufacturing process, or custom moulded. The latter, however, is reserved for when higher quantities are required and the cost of tooling can be seen as a worthwhile business investment. Therefore, most enclosures will need to be modified in some way to enable it to be used as intended.
There are a wide range of customisation options available on the market, with many being used in partnership with each other to bring a standard off-the-shelf plastic or metal electronic enclosure to life. Forms of customisation include printed company branding, cable inlet points or surface engraving and much more. Digital printing elevates an otherwise plain housing and can print onto most materials, making it a versatile way of adding branding, labels and graphics. At CamdenBoss we use state-of-the-art digital printers to provide the highest quality finish. We operate an in-house artwork creation service, where we take your designs and align them to the product that you are printing.
Most, if not all electronic designs will require CNC milling. An enclosure can be customised to provide cable attachment, switches and LED's to be incorporated. Our expert design engineers are on hand to discuss your drilling requirements, and position them on CAD/CAM systems, so that they can be re-created on our in-house machinery.
Application specific customisation such as EMI & RFI shielding can be achieved by applying a thin coating to the internal walls of the enclosure. This method can be used to ensure sensitive components on a PCB are not interfered with by frequencies given off by other equipment.
One of the latest enclosures from CamdenBoss, the Easy Assembly Electronics Enclosure, has been designed to provide the user with optimum customisation options to ensure they get the most out of their product. It has been designed to limit the number of issues that normally get in the way when using a conventional enclosure. Careful consideration of how design engineers use an enclosure to incorporate their PCB's has been thoroughly thought out in this latest enclosure.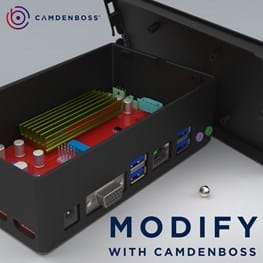 An example of this ingenuity is the ability to customise all six sides of the Easy Assembly Electronics Enclosure due to minimal screw points. The capability of having any side as a usable surface is warranted by the fact that there are no internal pillars. Having internal pillars can potentially cause issues with PCB design and block connectors on the PCB from reaching that face. This also means that the internal space is maximised for efficiency, allowing freedom of selection when customising the enclosure to include component cut outs such as RJ454's, USB's or antennas.
At CamdenBoss we pride ourselves on our customisation capabilities, with most forms available in-house. This gives you, the customer, shorter lead times and peace of mind that the enclosure leaves our warehouse ready to be assembled on your production lines. Our customers appreciate the versatility as it means that there are no third parties when it comes to the customisation of your enclosure, leaving only one contact to deal with.
If you are interested in finding out more about our products and how we can customise your enclosure, get in contact with our sales team today on 01638 716101.
Connect.
Enclose.
Innovate.
For further information on products please contact our Sales Team:
Alternatively visit our distributors page to find your nearest stockist or download the latest CamdenBoss catalogues.