National Apprenticeship Week #AskAnApprentice
10/02/2021

As part of National Apprenticeship Week, we are finding out a bit more about our very own Trainee Design Engineer, Dean Scott and his thoughts on apprenticeships. Dean is currently studying Engineering Technician Level 3, Apprenticeship Standard (Technical Support Route) at West Suffolk College, which is a 4-year apprenticeship.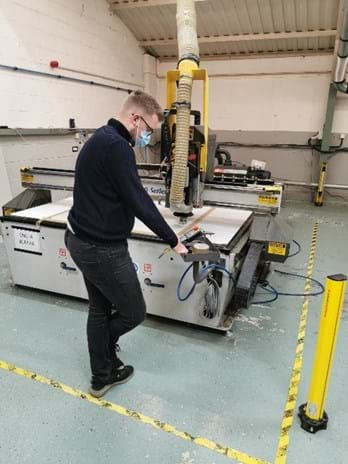 Previously Dean studied a Level 3 BTEC in Sport Development and Exercise for which he achieved the great marks of Distinction, Distinction, Merit, getting him into his first-choice of Leeds Beckett University, studying PE Teaching, to pursue his love of sport. However, he discovered that this was not the route for him and returned home from university and was faced with the tough decision of what to do next.
Dean decided to take a role in QC at CamdenBoss on hearing that there was an opportunity available, where he stayed for 2 months. On attending the CamdenBoss Christmas Party he 'saw a togetherness and united group of people that just enjoyed each other's company' which was the turning point for Dean, as he knew he had made the right decision choosing CamdenBoss. During his probation review Vince, our Production Engineer mentioned that he was pleased with how he had been acting through his first few months with the company, so much so that he wanted him to stay. On discussing what he wanted to do in the future, Dean mentioned that he had an interest in pursuing design and from that point CamdenBoss put him through all of the training, in all of the production departments (CNC, Assembly, QC).
Dean was already at a company that he liked and knew that an apprenticeship would be the best next step for him as he could get stuck into the working world and meet new people, whilst also training to better his knowledge and practices in the engineering sector and make connections with people taking the same route as him. When we asked what he enjoys about his apprenticeship he said it was that 'You get to speak to your teachers while at college and they can help you evolve into a great engineer' and the thing that he enjoys most is 'designing products for customers, as it is very rewarding when you design something and the customer is really impressed with it'. In addition to this he also enjoys learning with the people he has met at college and helping each other through the process and with assignments so that they can better each other and get the most out of themselves.
Dean has learnt a variety of skills throughout his apprenticeship so far. In term one Dean learnt 'Hand fitting', which is to do with the use of tools such as saws, files and drills on a range of materials. In term two the focus was 'Mechanical Assemblies' which focused more on specific tool names and sizes, engines, motors, belts, pulleys and screw and nut types. Finally term three looked at 'Wiring and Testing' which included learning about crimping wire connectors onto the ends of cables, stripping cables, managing a cable layout by numbering them and using a technique called 'tinning' to solder two cables together.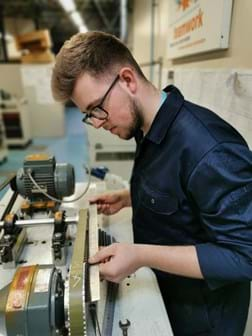 Dean would recommend choosing an apprenticeship to others and gave the helpful advice that 'you just have to make sure that you have the right mindset for it. It's going to be hard and the workload that you get (especially nearer the end of the course) is very difficult to handle along with doing your workplace jobs too'. He also mentioned that even though there 'are subjects that you won't like or prefer to do something else… learning something in those subjects can help you move up and better yourself in the engineering world'. Despite all of the hard work, Dean says that 'the reward when you have done the work for the apprenticeship or you get your marked assessment back with a Distinction, you feel a sense of achievement that you did yourself proud and you're growing towards that end goal'.
Keep up the good work Dean, you're doing great!
Connect.
Enclose.
Innovate.
For further information on products please contact our Sales Team:
Alternatively visit our distributors page to find your nearest stockist or download the latest CamdenBoss catalogues.