Enclosures designed for IIoT and network connectivity
06/04/2021

CamdenBoss' latest enclosure solution, the Hex-Box IoT Enclosure, is ideal for use in the ever growing world of industrial technology and the internet of things. This unique and feature filled electronic housing allows flexibility for customisation and component layout that standard shaped housings typically lack. Read on to find out more about IIoT, the benefits it brings to different industries and why the Hex-Box IoT Enclosure is the latest go-to enclosure solution.
When we think of the Industrial Internet of Things (IIoT) we automatically picture warehouses and factories, but the term is a lot broader than that and can include many other industries and environments, such as agriculture and retail. In short, the IIoT is a sub category of the IoT and is used to describe the devices and equipment that are not at consumer level. Devices such as smart thermostats and lighting controls could be considered IoT devices; whilst technology such as machinery and infrastructure monitoring equipment or embedded sensors could be considered IIoT. All transmit data through the internet whether that's hardwired or through wireless connectivity.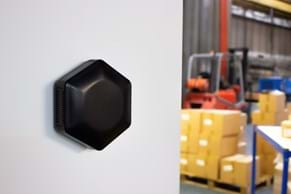 For many companies their day-to-day business involves production and transport of goods and this is where IIoT technology can make a huge difference. Operation and overall functionality can be greatly improved and refined with the use of IIoT technology and data analytics. An example of this could be the benefits where machinery and electronics used in production can be implemented with IIoT to monitor and predict potential issues before they arise, such as maintenance, repairs or faults. By monitoring in this way, downtime can be shortened and overall capacity and efficiency raised. Another example and benefit of industrial IoT can be seen in the healthcare sector. We rely heavily on electronics to monitor us in critical conditions or take measurements such as temperatures and blood pressure. With IIoT devices, patients can be monitored from their homes and notify doctors or healthcare professionals of any changes, triggering them to take responsive action.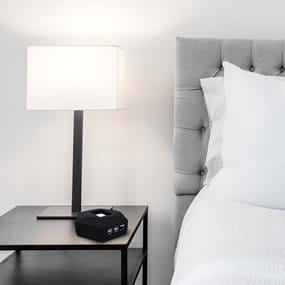 It is clear that, with developments in IoT and IIoT, we benefit immensely in our home and working life with automated network monitoring compared to solely human monitoring.
So what benefits does the latest enclosure solution from CamdenBoss have to offer for these types of applications?
Taking on the shape of a hexagon, this enclosure solution naturally provides six sides, which provides six usable side faces. These sides make use of self-retaining panels, available as either solid or vented, which you can mix and match to suit your requirement. The flexibility of the enclosure allows huge connector access and air flow benefits, important for industrial electronic and electrical applications. With this in mind, the PCB layout can be manipulated to work as the user intends, alleviating any issues with connector or outlet/inlet point. The housing redefines the rules of efficiency in PCB manufacture.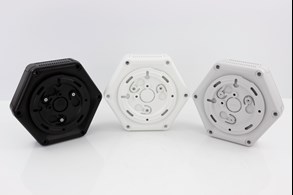 When paired with the unique Circular Wall Mount Bracket, the enclosure provides an easy installation with an inventive twist release mechanism. The bracket features a number of different mounting methods, including UK single gang mounting, slots for static, fixed surface mounting, as well as keyhole slots for fast dismount. The bracket also features 25mm cable entry knock-out, aligning perfectly with a marked area on the base of the enclosure. These features provide a concealed entrance for power cables from the rear of the enclosure; reserving the side panels for other connections or components, such as WIFI antennae or RJ45's
Save time on customisation by opting for our Hex-Box Pi Ready Enclosure. Two pre-customised panels allow for Raspberry Pi connections.
The Hex-Box IoT Enclosure is available in either black, white or grey and can be purchased in volume directly from CamdenBoss or through your local distributors.
Call our sales team today to discuss your requirement on 01638 716101.
Connect.
Enclose.
Innovate.
For further information on products please contact our Sales Team:
Alternatively visit our distributors page to find your nearest stockist or download the latest CamdenBoss catalogues.