Design in your enclosure at the right stage
13/04/2021

You have just finished putting together your last prototyped electronic system, you have ironed out the kinks and are now ready to progress to the next stage of your design, the housing. Is it a little too late to be thinking about the housing? In most circumstances the answer is probably yes, as projects may experience a rise in costs and you may face difficulties finding an enclosure that snuggly fits your working component assembly.
It is common practice for many engineers to wait until after the PCB has been designed before considering how their electronics will be housed. As a result, this can lead to difficulties when sourcing an enclosure that is suitable and fit for purpose. These challenges are felt by both the designers of the PCB and the manufacturing facility that provides the enclosure solution. Most off-the-shelf options are not always a direct match, even when they are customised with entry holes to allow for cable and wiring such as RJ45's, switches or LED's. You may have to compromise on the size of the enclosure to accommodate the electronic system by choosing a slightly larger one, potentially leading to increased costs.
This can be avoided by developing a good working relationship with enclosure manufacturers, such as CamdenBoss, at an early stage to gain a better mechanical understanding of how to select an enclosure fit for purpose, that also aligns with your system's requirements and layout. We encourage designers work with us at these early stages to get the full benefit of working with CamdenBoss to design your product, knowing that when you reach those finishing stages your enclosure solution is ready to go.
But what if you find yourself at the stage where you are finished with your PCB layout and design and are now looking for the enclosure solution to fit your product? How do you find that ideal off-the-shelf option?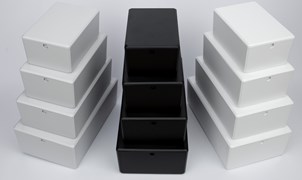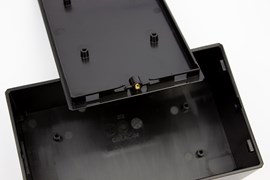 CamdenBoss' offers an extensive range of enclosure solutions and their latest enclosure, the Easy Assembly Electronics Enclosure, is an engineered solution designed with these common issues in mind. Most standard enclosures are moulded with pillars within the internal corners and walls that are used to secure the lid to the base. With the Easy Assembly Electronics Enclosure, these pillars have been removed, therefore maximising the internal space and potential PCB footprint. This provides an extra added benefit of allowing the PCB to reach the edges and corners with no obstruction; essentially offering an edge-to-edge capability. The PCB is secured and supported by central bosses and edge supports found around the perimeter of the internal walls. These central supports can be removed, if required, to allow for solder tags in these positions when placing your PCB. This innovative approach is unique to the market and is something not commonly seen, if at all! Not only does this provide a solution for tight fitted PCB's, it also alleviates the need to choose an enclosure that is too big for purpose, helping to keep costs to a minimum.
So, if you find yourself searching for an enclosure at the later stages of your design, or even at the beginning of your design, then the Easy Assembly Electronics Enclosure is the choice for you. Premium features, quality finish and a cost-effective enclosure, all designed to save you money by reducing assembly time – because life is too short!
You can find out more about this exciting new enclosure by checking out our website or by getting in touch with our sales team on 01638 716101 to discuss your requirement today!
Connect.
Enclose.
Innovate.
For further information on products please contact our Sales Team:
Alternatively visit our distributors page to find your nearest stockist or download the latest CamdenBoss catalogues.