Selecting enclosures for washdown
14/09/2020

In many circumstances, electronic devices need to withstand washdown conditions. Cleaning with the use of pressurised water is a common and effective way of cleaning down areas quickly and easily. However, when we introduce water to electrical components, damage is inevitable, creating system failures, expensive repair costs or even creating hazards to nearby operators. These environments can range anywhere from livestock and farming to drive through vehicle car washes.
In areas where a wash down is part of the daily procedure, it goes without saying that a waterproof enclosure needs to be specified and designed in. This can also include enclosures that are resistant against corrosion and/or submersion and may provide increased benefits depending on the end application.
CamdenBoss manufactures a wide range of waterproof enclosures, designed to meet the requirements of different electronic devices, applications and working environments. In this engineering guide, we will look at the characteristics that enclosures should have, the protection ratings required and the material options, followed by recommendations for some of the washdown capable enclosures available.
What aspects does an enclosure need to be suitable for wash down environments?
Out of all of the many features and benefits that an enclosure may possess, the most important factor here is to look for an electronics enclosure that have a waterproof gasket seal. A gasket seal follows a path that trails around the entire edge of an enclosure, between the lid and base. Once both halves are screwed together, the pressurised gasket forms a seal that keeps out water and solid objects such as dust and other particles. Gaskets are generally made from a robust material such as EPDM.
Whilst many types of gasket seals are available in today's market, the most important thing to consider is the IP rating that is provided from the enclosure once the gasket is in place.
There are also other features that will help improve the enclosure's effectiveness in wet, wash down areas.
Using corrosion resistant materials such as stainless steel or aluminium
Protected or corrosion resistant screws, recessed
Clear lid options allow electronics to be read whilst remaining closed and dry
Space for waterproof cable glands
A secure mounting mechanism
What specifications should you look for?
As previously mentioned, the gasket is responsible for the overall effectiveness of an enclosure's ability to keep water out. To remain competitive and to provide customers with a trustworthy product, manufacturers design and test their enclosures to different levels. The protection ratings for ingress is 'IP' or 'NEMA'.
There is a variance in the capabilities of each rating and therefore the correct level should be selected. Levels of protection to look out for are:
NEMA 4, 4X, 6 or 6P enclosures all possess a waterproof gasket seal and are tested to some degree of protection. NEMA 6P, for example, protects against full, prolonged submersion, where NEMA 4X protects against pressurised water, but not submersion.
IP ratings are split into two digits, for example IP65. The first digit indicates protection against solids such as fingers, tools and dust; the second digit indicates water protection. For washdown applications, the second digit needs to be 6, which is the protection against direct high-pressure water jets.
What enclosures are available from CamdenBoss?
CamdenBoss manufactures enclosures with many different grades of IP protection, which lend themselves to different electronic device applications and working environments. Here are just a few that are suitable for washdown and typically wet areas.
The X Series range of heavy duty enclosures are manufactured in either a polycarbonate or ABS materials, with an IK rating of IK08 and sealed to IP67. The series is split into three types of enclosure, the X6 Electrical Knockout Enclosure, X7 Electrical Heavy Duty Enclosure and X8  Electrical Hinged Lid Enclosure. The X6 is more suited to junction type electronics and control devices due to its metric sized knockouts located on the base. The X7 is robust, has a deep internal space and can be used for all types of electrical systems. The X8 uses a hinge and latch system for its lid and therefore is most suited to centralised IoT units, control points and distribution electronics.

71 and 72 series enclosures. These enclosures come pre-moulded with flanges so that they can be easily wall mounted outdoors. Both are manufactured with a UV stable polycarbonate material, ideal for outdoor electronics in direct sunlight, as ABS will warp and can lead to enclosure failures. Both the 71 Series IP66 Flanged Enclosures and the 72 Series IP66 Wall Mount Enclosures are ideal for outdoor use.
The 88 Series IP67 Heatsink Cases are manufactured using an extruded aluminium technique. Heat sink fins have been incorporated into the design to actively combat against internal heat concerns, without compromising the IP67 rating. Aluminium provides natural EMC shielding and is more robust than plastic enclosures. A wall mounting option is available so the enclosure is easily wall mountable.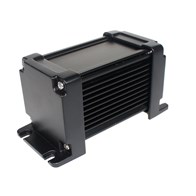 To discover all of the waterproof enclosures available from CamdenBoss, click here
Or alternatively, to view the whole range of electronic enclosures here
Connect.
Enclose.
Innovate.
For further information on products please contact our Sales Team:
Alternatively visit our distributors page to find your nearest stockist or download the latest CamdenBoss catalogues.