Smartboxx Airport POS Kiosk
13/03/2020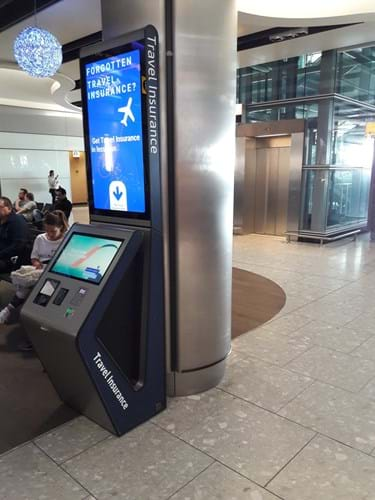 Smartboxx push the boundaries with this state-of-the art POS Kiosk. Taken from concept to volume manufacture in 6 weeks this unique looking Kiosk now sits in most UK airports selling insurance.
Manufactured using a combination of Steel for the structured core and aluminium composite for the cladding, we have managed to achieve a lightweight brushed effect appearance that not only fits into its environment, but makes it easy to manoeuvre around the airport if required.  
The brief suggested that the product needs to be modular as the digital display at the top would not always be required. The design allows for the display to simply slide up and lift off with a blanking plate to put over the opening.
A single key lock solution allows easy access internally for any maintenance and servicing required. This being manufactured from Black ABS to give it a 'hidden' appearance so it doesn't take away from the uniquely shaped aesthetics.
Illustrated in the image is one of the kiosks sitting proud in Gatwick airport, London.  In situ for over 3 years, it looks good as new and still looks the most innovative product in the airport.
As well as the manufacturing of the product, Smartboxx along with CamdenBoss offer full assembly/wiring of the product. Achieving a bespoke, fully branded solution that is ready for market is really quite simple. Call today and find out how we can help you.
Get in touch with us with your idea or design, no matter what stage it is at and we will assist you in getting it into production and circulation.
+44 (0)1842 766 557
Connect.
Enclose.
Innovate.
For further information on products please contact our Sales Team:
Alternatively visit our distributors page to find your nearest stockist or download the latest CamdenBoss catalogues.