CamdenBoss fused terminal blocks for 5x20mm fuses
05/03/2020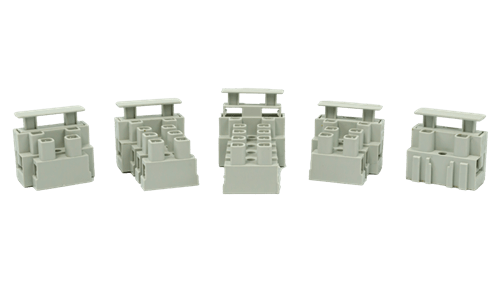 The CamdenBoss fused terminal block 'CFTBN' series provides circuit protection for applications such as lighting control in both domestic and commercial properties. Manufactured here in the UK, the CamdenBoss' CFTBN series has been utilised in wiring systems all over the globe.
The fused terminal block is available in one to five pole options and in various different body types. The fuse carrier to the first wiring pole can hold two 5x20mm fuses, where one acts as a spare part should the fuse need replacing.  This greatly reduces the time taken to switch the fuses over and input the spare.
CamdenBoss stocks a variety of fuse types such as glass, ceramic with fast and slow blow speeds, covering most circuit protection requirements.
The Earth screws are wire protected throughout the range, with the option to have wire protected terminals for the remaining of the block (order suffix WP and EWPG).
Single pole CFTBN's are capable of being interlocked together, offering the flexibility to build up the number of poles and protect multiple circuits.
Moulded from UL94-V0 flame retardant PA, the connector blocks are fully specified to GWIT at 775oC and GWFI to 850oC. The CFTBN is certified to EN60127 (fuse holders) and EN60998 (terminal blocks).
If you are looking for a standalone, fused wiring solution, with a reputable history and the safety compliance to match; visit our website for the full details or give our sales team a call.
+44 (0)1638 716 101
Connect.
Enclose.
Innovate.
For further information on products please contact our Sales Team:
Alternatively visit our distributors page to find your nearest stockist or download the latest CamdenBoss catalogues.