5500 Series Heavy Duty Diecast Aluminium Enclosures
17/03/2020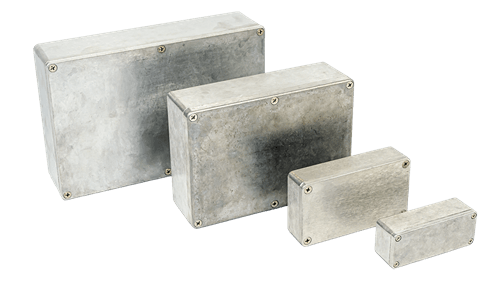 Whilst operating in demanding industrial environments, electronic enclosures can come into contact with a number of factors that compromise functionality. These factors may be in the form of impact, high temperatures, alcohol and solvents or oils and gasoline. Metal has a better resistance than a plastic enclosure to these potentially harmful factors or corrosive substances. Metal housings such as aluminium enclosures, are conductive and suitable for EMI (electromagnetic interference sensitive) applications. Metal enclosures are naturally more resistant to rain, snow, sun and extreme weather - making them ideal for outdoor applications.
The robust 5500 series aluminium diecast enclosure has been manufactured to provide superior protection and is ideal for applications that require increased protection.
This diecast enclosure is available in 11 different sizes and with a natural aluminium finish. Powder coating is available in-house, should you require a custom colour or finish. The internal space has been maximised by implementing a low draft angle into the design.
Rated to IP65, the 5500 series features a heavy diecast frame with a thick set base and lid assembly, ensuring practical protection to your electronic devices, wherever they are placed. Wall or surface mounting holes are located outside the gasket channel to allow the enclosure to be mounted, without compromising the IP65 seal.
To view the entire range and find out more about the materials, specifications, dimensions and availability, visit the CamdenBoss website using the link or get in touch with our sales team using the number below.
https://www.camdenboss.com/camden-boss/enclosures/metal-enclosures/diecast-enclosures/heavy-duty-diecast-(5500-series)/c-23/c-2015
Call our sales team today on 01638 716101
Connect.
Enclose.
Innovate.
For further information on products please contact our Sales Team:
Alternatively visit our distributors page to find your nearest stockist or download the latest CamdenBoss catalogues.