5000 Series Diecast Aluminium Enclosures
13/03/2020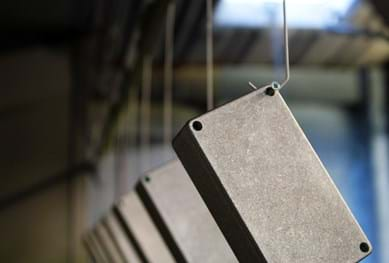 Reliability and durability are essential to ensure the smooth operation of the equipment, for this reason diecast aluminium enclosures are selected for applications where an electronic device may face vigorous contact such as industrial controls and entertainment industry stomp boxes. Aluminium carries natural RFI/EMI shielding properties, which can be enhanced with further coating. This is beneficial to sensitive components and signal devices operating in heavily signal saturated environments.
Many diecast aluminium enclosures are available to purchase from CamdenBoss with one apex option being the 5000 series. The 5000 series multi-purpose diecast enclosure from CamdenBoss is popular for its lightweight body, cost effectiveness and middle level IP rating. It is commonly used by our customers for industrial control boxes, electrical junctions and audio stomp boxes, to name a few. A wide selection of colours and finishes are available to choose from.
Easily customised to feature cable entries, component controls, LCD's and more, aluminium housings are an all-round functioning enclosure option.
The 5000 series multipurpose enclosure is available in seven sizes, ranging from 50x50x31 up to 192x11x61 (external dimensions) and in eight colours such as natural, hammertone, black, white, red, yellow, blue and green. The highly durable and shock resistant box is pre-casted with vertical PCB slots, allowing for PCB's to be easily located inside.
The 5000 series diecast enclosure is rated to IP54, with the option to add a neoprene gasket that is designed to meet the requirements of IP65.
To view the entire range and find out more about the materials, specifications, dimensions and availability, visit the CamdenBoss website using the link below, or alternatively get in touch with our sales team using the number below.
View the entire range using the link below!
Or contact our sales team to find out more: 01638 716101
https://www.camdenboss.com/camden-boss/enclosures/metal-enclosures/diecast-enclosures/diecast-(5000-series)/c-23/c-2017
Connect.
Enclose.
Innovate.
For further information on products please contact our Sales Team:
Alternatively visit our distributors page to find your nearest stockist or download the latest CamdenBoss catalogues.