Common die cast and extruded aluminium enclosure applications and features
28/02/2020
Selecting between a metal or plastic enclosure can cost you a lot down the line in terms of having the right protection, manufacturing an affordable product or simply having the right aesthetic. We will not be looking at the differences between the two or the arguments for and against, instead we will be focusing on the benefits of aluminium enclosures, the typical applications and the differences between die cast and extruded options that are available from CamdenBoss.
Aluminium is one of the world's most abundant materials, with some of the most popular features and manufacturing benefits known. It should be no surprise that it is literally all around us, from desktop instruments to handheld devices and everything in between.
As previously mentioned, aluminium has an array of features that make it highly suitable for many electronic applications:
The natural RFI and EMI shielding that aluminium retains makes it suitable for sensitive components and devices
Aluminium is extremely durable, yet lightweight
The material has a good natural finish and will accept many other finishes for improved aesthetics
It is a sustainable material
Aluminium enclosures are less susceptible to corrosion than other metals such as untreated steel
Extruded aluminium enclosures
Aluminium extrusion is a process in which heated aluminium is pushed through a die and is then formed into the required shape. This can be any shape, within reason, and is how many aluminium products are produced.
In electronic enclosure terms, the aluminium extrusion is best suited to producing the main 'body' of an enclosure. The die can have a set width and height and produced in a set length, for example meter lengths, and then cut to the required lengths that make up the standard range. Using this system, custom lengths can be requested based on MOQ's or MOV's. The end panels of the enclosure will then either be die cast, which we will discuss later, or plastic.
The CamdenBoss 55 series is manufactured in this way and uses plastic end caps. The 55 series handheld enclosure is commonly used for its compact size, making it portable, its recessed top and bottom makes and ideal area for controls overlays and screens, and the PCB slots that make assembling the enclosure easy and straight forward.
Another example from CamdenBoss is the 88 series. This highly waterproof and dust tight enclosure solution is manufactured via an extruded body and die cast end caps that feature a gasket channel for sealing the enclosure. It is available with either a silver or black anodised finish. A wall mountable enclosure option is available to order.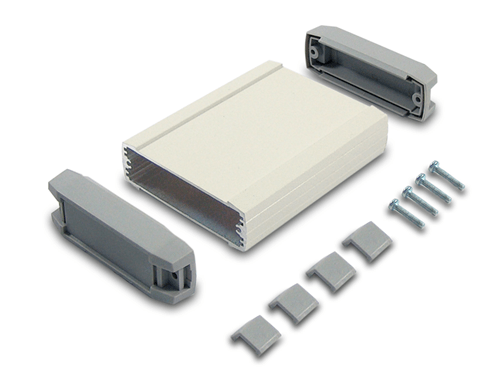 Die cast aluminium enclosures
Die casting aluminium enclosures is a process where molten metal in cast into shape by using a die and a die casting machine. More complex shapes can be achieved this way, for example ribbing and PCB pillars can be cast into the electronics enclosure.
Die cast aluminium enclosures, unlike extruded variants, are set to standard sizes. They possess the ability to be more complex, more robust and remain relatively lightweight which is important for metal electronic enclosures. Aluminium die cast enclosures can be easily customised with control and component entry points using the in house customisation capabilities at CamdenBoss.
The 5000 series multi-purpose die cast enclosure from CamdenBoss is popular for its lightweight body, cost effectiveness and middle level IP rating. It is commonly used by our customers for industrial control boxes, electrical junctions and audio stomp boxes, to name a few. A wide selection of colours and finishes are available to choose from.
For applications that require a physically stronger enclosure, the 5500 series heavy duty die cast is available. Typically used for industrial control and mechanical applications, the thickset aluminium alloy housing is designed to meet the requirements of IP65 with the included neoprene gasket. A natural finish is available as standard, with hammertone or powder coating options to order.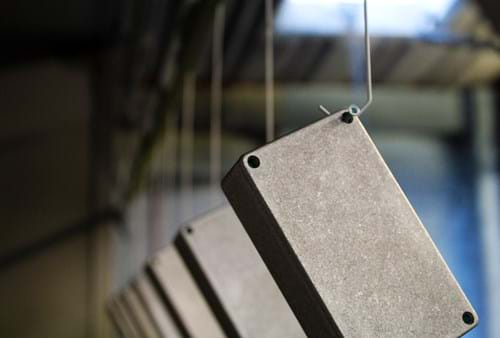 To see more of the metal enclosures available from CamdenBoss, click here
Or alternatively, to see the whole range of electronic enclosures, click here
Get in contact with us to discuss your next project
Connect.
Enclose.
Innovate.
For further information on products please contact our Sales Team:
Alternatively visit our distributors page to find your nearest stockist or download the latest CamdenBoss catalogues.