Five common handheld enclosures to house today's technologies
18/08/2020

For some, electronic devices being desk bound or mounted to a wall isn't enough. Instead, they need the enclosure that houses them to be portable, lightweight and adaptable. With connectivity growing at such a fast rate, wireless electronic devices are common in many industries. Handheld and portable electronic devices are used to carry out tasks such as maintenance, take readings, provide thermal imagery or even monitor a patient's heartbeat and blood pressure.
Without portable handheld enclosures we would be unable to operate remotely. Restrictions would get in the way, such as weight, rendering it almost impossible to manoeuvre regular injection moulded housings. Manufacturers are therefore required to develop and manufacture handheld enclosures that are capable of carrying out these tasks whilst still remaining practical.
CamdenBoss manufactures a wide variety of handheld enclosures in a variety of different materials, matching different specifications to suit a multitude of applications. From aluminium extrusions to key fobs or IP67 rated enclosures, we have a standard off the shelf handheld for most applications. Even if we don't stock a standard product, why not make use of our industry-leading Smartboxx custom enclosure solution.
Below are five common types of electronic device that our handheld enclosures could be used for.
1: Medical equipment
In busy medical environments, equipment needs to be mobile so it can move around the hospital freely. With electronics getting smarter and more capable of uploading information to the cloud in real time, devices such as cardiac, blood pressure and oxygen level monitoring equipment are essential devices that doctors and nurses carry around with them. The information taken is automatically uploaded, enabling any doctor to immediately see a patient's on-screen real-time data. Handheld enclosures that are used in medical environments need to be water resistant as they undergo regular cleaning. They also need to be rugged or incorporate a rubber boot or grip case to make them comfortable to hold and 'drop resistant'.
2: Diagnostic equipment
Diagnostic equipment is a very common use for handheld electronic enclosures due to their need to be portable. Taking many forms, such as engine diagnostic or machinery error code testing. Handheld diagnostic equipment can be found everywhere and in almost any industry. Equipment like this may require features such as battery compartments, recessed front faces for displays/overlays or protective rubber boot options. Some working professionals such as mechanics may require the enclosure or boot to have some kind of belt mounting option enabling it to easily be carried around.
3: Portable measuring equipment
Whilst similar in requirements to diagnostic equipment, measuring equipment carries out slightly different tasks. Common measurement devices may include voltmeters, used by electricians, or water testing devices, used in commercial environments such as swimming pools or sea life centres. End users look for features such as battery compartments or rely on a charging system. Some degree of water resistance may be useful to tackle outdoor operations. Recessed areas also make handheld enclosures useful for overlays, displays and labels.
4: Radio signalling device
Handheld enclosures are perfect for radio signalling electronics. Commonly, plastic enclosures are used as they will not interfere or disrupt the radio signals that the device is trying to receive or emit. However, EMC protection may be required to protect any sensitive components inside. Signalling devices come in many forms, from radio devices to smart home baby monitors. Our 45 Series Palm Case Electronic Enclosure and 66 Series Handheld Rubber Corner Enclosures have both been used as signal analysers. The analysers were used to determine the optimum location for wireless devices before installation. This application is becoming more common, due to the increased connectivity of smart cites and smart factories worldwide.
5: IoT smart farming device
With many more people to feed in the world, compared to 50-100 years ago, there is a huge amount of pressure on agricultural farming. Consumers and retailers rely on farmers to yield the maximum number of crops and livestock, year on year, to keep up with demands. Luckily, with advances in technology this can be achievable and more manageable. Electronic devices such as soil PH testers allow a farmer to ensure crops are getting the best nutrients and growing conditions. Handheld enclosures are an excellent choice for animal health testing equipment. Portable and easy to use electronics in agricultural settings is really revolutionising the way we farm and it is exciting to see CamdenBoss products used in these situations.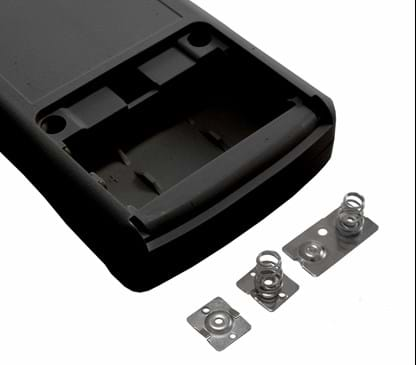 To view the entire CamdenBoss range, find out about our latest NPI or view our customisation capability, make sure you browse the rest of the website.
CamdenBoss Handheld Enclosures
Alternatively, why not give our sales team a call to discuss your project on 01638 716101.
Connect.
Enclose.
Innovate.
For further information on products please contact our Sales Team:
Alternatively visit our distributors page to find your nearest stockist or download the latest CamdenBoss catalogues.