Choosing the right terminal block for you
29/10/2019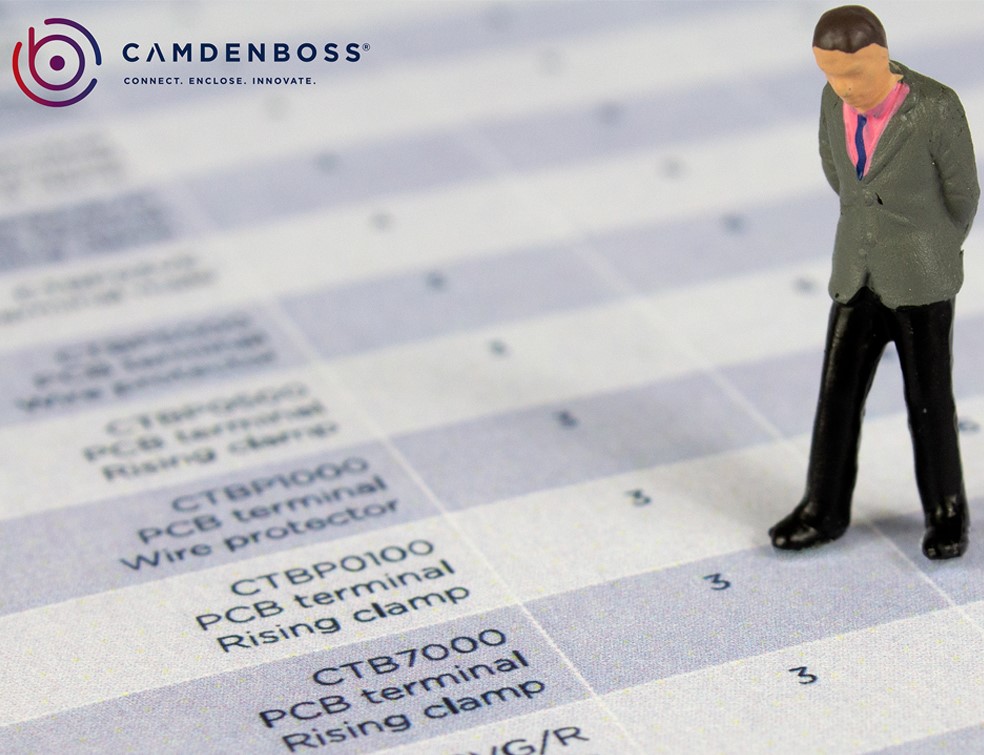 Terminal blocks are common place on electrical assemblies and are sometimes overlooked and under-estimated as being just a little green or black connector block. This misconception couldn't be more wrong and is an important factor that needs to be considered, just as much as any other component.
In the 50 years that CamdenBoss has been manufacturing, their customer base has changed and evolved to make room for new markets and innovations. It is with this experience that they have become a leading manufacturer for e-mech components and enclosures.
In the past five years alone, electronic markets like IoT and smart factory industry 4.0 have burst on the scene creating an influx of new uses and requirements for terminal blocks of all sizes.
We understand that selecting the correct terminal block for the job can sometimes be difficult with so many choices to choose from. It is for this reason that CamdenBoss has carefully considered its range to ensure there is enough choice so as to remove compromise, but without restricting the variety available.
Terminal blocks are responsible for connecting wires directly to a PCB, in a number of different ways depending on how a designer would see fit. For example, should the connection be breakable for maintenance? Is quick assembly and disassembly an important factor? Or simply are there larger power loads to deal with?
Current is an important factor that will distinguish a terminal block's applicability to your circuit. Pushing too much current through a terminal block can cause overheating and result in a fire or damage. Larger terminal blocks can typically withstand larger amounts of current, but sacrifice space as they will take up more room.
Whilst most terminal blocks will be able to withstand the voltage requirements of an average circuit, this certainly should not be overlooked. Over voltage can lead to leakage and arc's between terminals, therefore larger voltages generally require a larger pitch spacing.
As it is their main function to hold and connect wires, the wire gauge and efficiency of carrying out this task is also important. It is worth investigating the recommended wire size of a terminal block before use, as well as the type of wires best used e.g. single or multi core.
CamdenBoss manufactures and stocks four main types of terminal blocks.

Standard PCB terminal blocks are your typical wire to board assembly connectors, soldered onto the PCB by through hole pins. They provide a screw type termination to hold the wire in place and utilise either a wire protector or rising clamp terminal. Within the range a comprehensive selection of low and standard profiles are available, alongside larger blocks for higher current requirements. The pitch sizes in this category start at 2.54mm pitch and work up to 10.16mm, providing an ideal selection for various applications.
Pluggable terminal blocks work using two halves, a male terminal block that is soldered to the PCB and a female terminal block that acts as a plug. This method is more commonly used in applications where disconnection and reconnection are required, for example maintenance reasons or plugging in diagnostic equipment to machinery. The wires do not need to be taken out and therefore save the user time. Pluggable terminal blocks are a slightly more premium product; however, they are more efficient in many ways compared to standard terminal blocks.
Screwless solutions share similar aspect to that of a pluggable block, in the sense that they can help reduce maintenance and set up times of large assemblies. An actuator or lever is pressed, opening the cage clamp, in which the wire is inserted and held. Like rising clamps, the cage clamp does not become perished and provides a premium alternative to standard connectors. Available in pitch sizes from 2.54mm up to 7.62mm.
CamdenBoss also manufactures a choice of DIN Rail mounted pluggable connectors, available in either 5mm or 5.08mm pitch sizes. Using this style, a pluggable connection to a fixed DIN Rail installation can be achieved.  
Throughout the range compliance can be found from approval bodies such as UL and VDE, assuring peace of mind you are making the right choice when it comes to souring your connectors.
To ensure you make the right choice for your design, contact us on 01638 716101 or take a look at our new video, terminal block selection guide, terminal block line card and/or our marketing section on our website.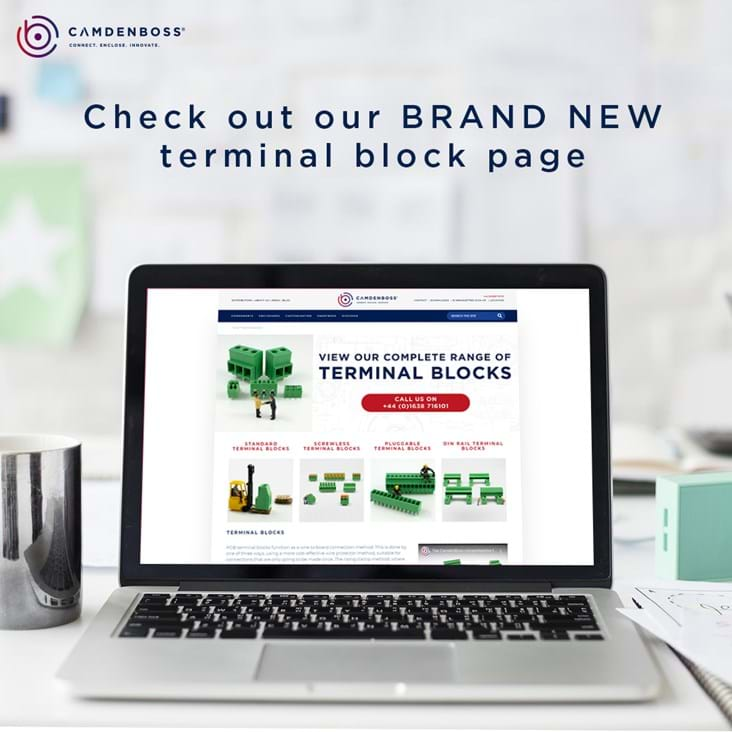 Connect.
Enclose.
Innovate.
For further information on products please contact our Sales Team:
Alternatively visit our distributors page to find your nearest stockist or download the latest CamdenBoss catalogues.