Enclosures for IoT Applications
14/06/2019
With 50 years of experience as an enclosure manufacturer at CamdenBoss we have an in-depth knowledge of electronics cases and housings. The challenge we face is the fast-paced changing demands presented by the IoT revolution.
The internet of things (IoT) is about enhancing the capabilities of electrical systems which we use on a daily basis either at work, at home or as we commute using various modes of transport. Through the IoT and wireless devices, a more connected world can be achieved with such things as:
Collecting and managing data in cities
Improving production line equipment
Automotive and automation enhancement
Creating an engaging home environment through smart devices
What should be on a buyer's shopping list for these types of applications?
With the range of applications in which an IoT device can operate the choice of suitable enclosures is extensive.
To ensure an enclosure is successful at protecting your devices and is fit for function, specific options  should be considered. The ease of maintaining firmware and components, is key. Hinge and latch type enclosures offer a way to secure your components whilst at the same time offering quick access, making them ideal for system hubs and monitoring / comms stations.
A buyer should also consider whether there is going to be an issue with water and/or dust ingress, and select the level of protection required. IP ratings offer a good guide to an enclosure's suitability; however, consideration should be given to the overall performance of a product's design, ie when 'through' connectors are designed in.
Ingress may not be an issue and instead, heat may need to be removed from the product housing. In this case, buyers could specify aluminium housings that incorporate heat sink features. Alternatively, plastic or sheet steel enclosures can be easily customised to include vents.
With everything to consider, selecting the correct enclosure for certain applications can be made easier by drilling down to the basics and creating a list of requirements.
Are there differences for IoT Enclosures compared to normal enclosures?
Fundamentally, there probably aren't any differences between IoT enclosures and normal enclosures at the moment. However, this is a fast paced constantly evolving market.  When choosing your enclosure you should find a trusted source capable of delivering production ready 'off the shelf' stock, customised enclosures and bespoke designed solutions all for the evolving IoT industry.
Are there any certifications or standards that identify IoT applications?
Currently there are no industry standards specifically for IoT devices. However, generic approvals for the enclosures still apply. Flammability ratings, ingress protection and/or EMC shielding should be considered when choosing your enclosure.
Any educational advice you can provide to ensure readers select and purchase the right enclosures for demanding IOT applications?
Depending on the application, there are things to consider to ensure the correct choice is made. For applications that include internal antennae, plastic enclosures are generally more suitable as they don't interfere with signals. For smart devices that operate in telecoms and radio, RFI/EMI protection is essential as frequency pollution interferes with signals.
When deciding on an enclosure, don't just consider current issues, but also how future technology and developments can be accommodated.
A pragmatic approach when specifying materials for UV resistance, UL compliance and IP ratings is key.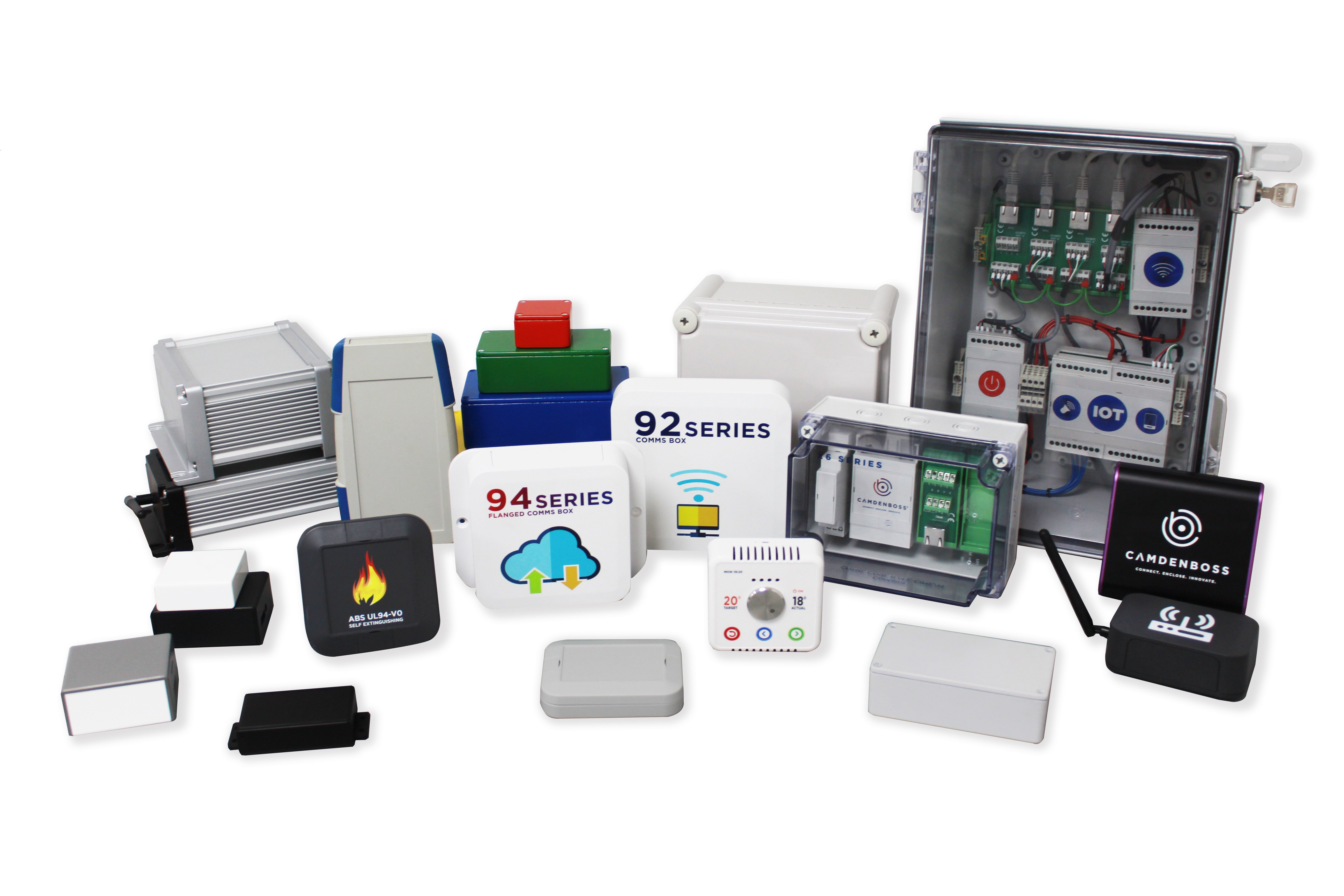 To view CamdenBoss's range of IoT suitable products follow this link
https://www.camdenboss.com/iot-applications/
Published in Electronics Sourcing June 2019
Connect.
Enclose.
Innovate.
For further information on products please contact our Sales Team:
Alternatively visit our distributors page to find your nearest stockist or download the latest CamdenBoss catalogues.