How to choose the right terminal block
02/04/2019

Introduction
CamdenBoss' strong inventory of core range terminal blocks puts us at the forefront of the industry. We offer a perfect balance of quality products suitable for a variety of industry sectors, where wire to board or wire to wire is required. Holding compliant certification and covering pitch sizes from 2.5mm up to 10.16mm in a selection of profiles, CamdenBoss' terminal block presence is growing. We are driven by customer requirements allowing us to stay highly competitive within the market.
Building on 50 years of experience, CamdenBoss is a well-known trusted brand and manufacturer of industry standard terminal blocks. With so many products available on the market, we understand that product selection can sometimes be difficult. Our team of experts are on hand to help you make the correct choice. We offer a high-quality comprehensive range that is competitively priced and holds electrical compliance.
CamdenBoss has created a selection that is wide-ranging allowing customers enough freedom but not so much that the range becomes diluted with 'repeated' parts. Relevant new types are being added, as and when its necessary, to meet an industry or customer requirements. We continue to fine tune a crowded market with the customer's needs at the forefront of the operation.
The '01' catalogue distributes the core range of terminal blocks into sectors covering standard type PCB terminal blocks, pluggable terminal blocks or screwless terminal blocks (that can fall into either of the two previous categories). We also manufacture DIN Rail mount terminal blocks that are essentially pluggable in their nature.
The ranges in detail
Pluggable terminal block solutions allow the disconnection and reconnection of wiring systems without the need to unscrew the wires; allowing an engineer a time saving option whilst carrying out maintenance. Pluggables are also useful for diagnostic type equipment when termination is not always required.
Pitch sizes range from 2.5 to 7.62mm in male and female types and various orientations.
Customary type terminal blocks are your standard wire to board; soldered to a PCB with screw type termination. For more permanent connections, rising clamp styles allow for more flexibility with maintenance whilst wire protector terminal blocks are cost saving.
A comprehensive range of low and standard profiles for average type applications with higher voltage types typically having a larger profile and pitch sizes for pin clearance. Pitch sizes range from 2.54 to 10.16mmm, creating a solid range for most applications.
DIN Rail mountable terminal blocks create a solution similar to pluggable style, completely compatible with the female terminal blocks in the CamdenBoss inventory. You will want these terminal blocks if you need quick and easy connection and disconnection from wire to wire; without using a PCB.
Available in two pitch sizes, 5 and 5.08mm, they are compatible with our female terminal blocks.
Screwless terminal block solutions allow wires to be quickly connected to the block through actuator type terminals, allowing quick assembly or disassembly in cases where wires need replacing or a new system connected. The wire cages do not become perished like wire protector terminal blocks therefore giving a longer life. HVAC and lighting applications may benefit over standard type terminal blocks.
CamdenBoss' stocked types vary from wire to board and pluggable styles for your suited application in pitch sizes from 2.54 up to 7.62mm.
Conclusion
With an ever-growing market of connectors for applications small and large be sure to look for the signs of a well-established range with the principle being customer focussed, quality assured product; it will help you on the path to choosing the correct component to fit your requirements.
Lewis Letchford
Technical Marketing
April 2019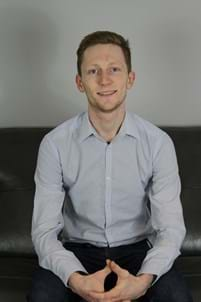 Connect.
Enclose.
Innovate.
For further information on products please contact our Sales Team:
Alternatively visit our distributors page to find your nearest stockist or download the latest CamdenBoss catalogues.