X-SERIES BECOMES CAMDENBOSS' STRONGEST ENCLOSURE RANGE
24/05/2018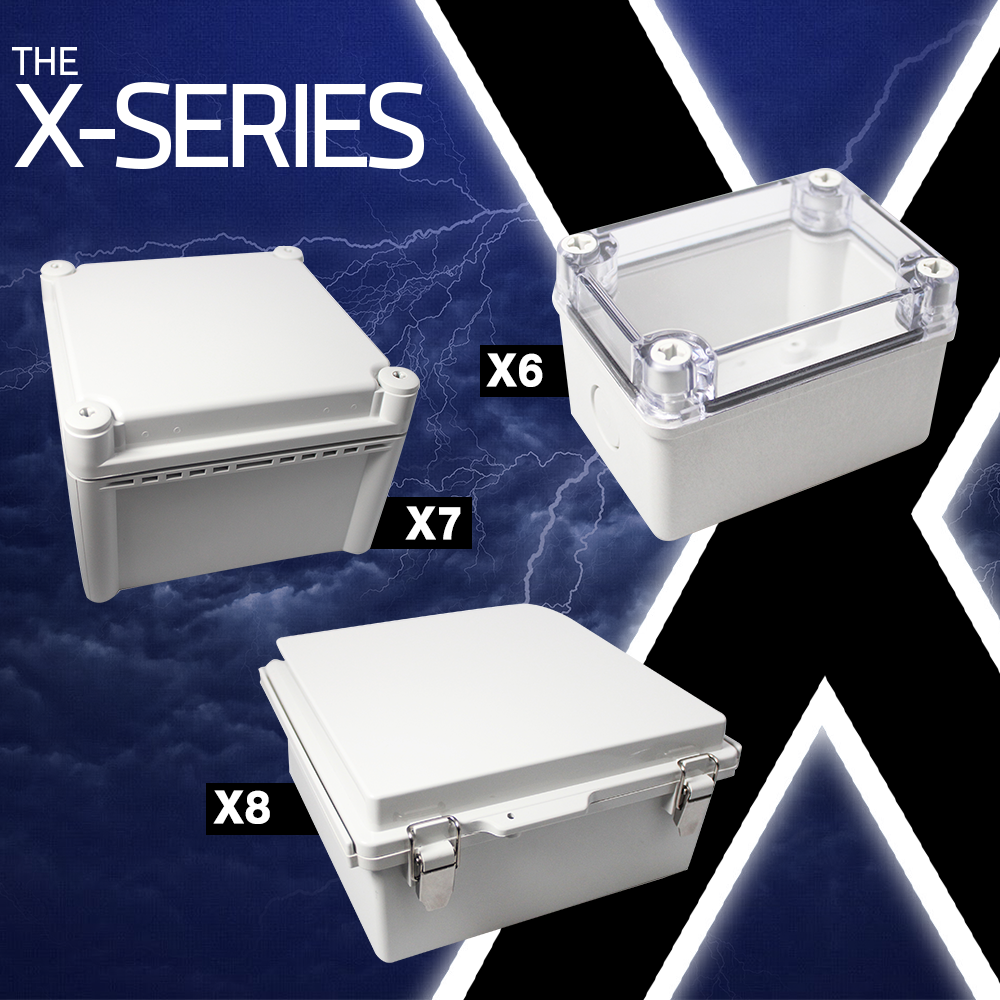 The X-series offers unbeatable protection against every knock, bump and scrape. The X8, X7 and X6 series are now CamdenBoss' most robust electrical enclosures with IK09 impact resistance rating. Together with IP66/67 class sealing, the X-series is ideal for indoor and outdoor applications such as control panels, junction boxes and distribution boards.
Each series is available in either polycarbonate or ABS. Polycarbonate is UV-light resistant, when exposed to the sun, the enclosure is less likely to appear faded and worn over time. ABS is a cost effective option for indoor use without compromising on quality. Both polycarbonate and ABS have identical quality ratings.
The X8 series offers something completely different to what customers may expect from CamdenBoss. Available in 16 sizes, the enclosure is fitted with a hinged lid. This type of lid provides easy access into the enclosure, without removing any screws. The lid latches can be fastened securely with a padlock or, for increased security, the lock accessory can be added. For control panels, the dual door allows direct access to the control panel without struggling with screws or latches. The dual door is perfect for utilising CamdenBoss' 22mm pushbutton switches and E-stops, which can be mounted within the enclosure.
For DIN Rail modules, the X8 series can be modified with precision CNC machining by experienced engineers at CamdenBoss to create transparent slots where vital information and feedback can be visible.
The X7 series features five different sizes with rigid corners, the series embodies strength and is strong enough to deal with any heavy knock, even a forklift clash. Featuring brass inserts, they can be accessorised with PCB and other component mount options such as steel mounting plates and for keeping it cool against the heat, two sizes of vents are available in polycarbonate and ABS.
Hassle-free enclosure knockouts are an important feature of the X6 series, these are industry-sized and provide effortless entries for cables. There are 10 sizes available in this series, each enclosure is fully customisable with steel mounting plates, wall/surfaces mounting brackets and quick release screws. The series also features polarised lids, with a choice of solid grey or transparent.
CamdenBoss' is excited to offer the new X-series, a completely unique range covering a wide-range of applications, requirements and essentially protecting what matters to the customer.
Call our sales team on + 44 (0) 1638 716101 for more information.
Connect.
Enclose.
Innovate.
For further information on products please contact our Sales Team:
Alternatively visit our distributors page to find your nearest stockist or download the latest CamdenBoss catalogues.