NEW LOW COST LED PANEL INDICATORS OFFER LOWER POWER CONSUMPTION
01/09/2017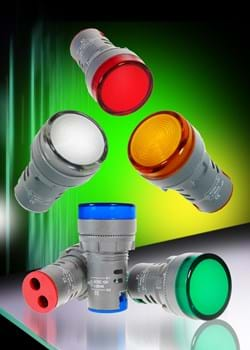 CamdenBoss, provider of performance engineered interconnection and enclosures worldwide, has announced the launch of a new range of LED panel indicators offering lower power consumption compared with conventional incandescent lamps.
The new CBPI22 series are 22mm size panel indicators that offer a modern low cost and high quality replacement for traditional pilot lights. With multi-chip LED technology, these indicators offer a four-fold improvement in efficiency operating at 60 lumens per watt compared with 13 to 18 lumens per watt for incandescent bulb products. This results in a 75% reduction in power consumption. The LEDs also offer longer life than incandescent lamps resulting in approximately four times the lifespan for these new panel indicators.
Features include a range of voltages – 12 or 24V DC and 110 or 230V AC – and five standard lens colours – red, green, amber, white and blue. Two lens options – plain and concentric – are available and the indicators are not polarity sensitive to make installation easy.
A gasket behind the screw-on lens ensures the front face conforms to IP65 protection and the connection area is colour matched to the lens so that indicators being wired behind the panel can be easily identified. Fixing is via back of panel lock nut and wires are connected via screw clamp terminals.
Audible and illuminated audible indicators are also available and CamdenBoss offers custom options for voltage and moulding colour. The new low cost 22mm panel indicators are available from stock and the company also offers 16mm versions to special order.
The new CamdenBoss panel indicator range complements the company's extensive range of panel products encompassing a wide variety of LEDs and indicators, 22mm diameter control switches and push buttons, selector switches, emergency stop buttons with key or twist release and a range of piezo switches, keypads and proximity readers.
The new panel indicators are featured in the latest CamdenBoss components catalogue that is available from the company on request or can be downloaded from the CamdenBoss website at http://camdenboss.com/request-a-catalogue
Information from:
Hannah Argent, CamdenBoss Ltd., 60 James Carter Road, Mildenhall, Suffolk, IP28 7DE.
Tel: +44 (0) 1638 716101, Fax: +44 (0) 1638 716554.
Email: sales@camdenboss.com                                                          
Web site: http://www.camdenboss.com
Press information from:
Tim Jennings, Marshall Jennings PR Ltd, Wyvols Court, Swallowfield, Reading, Berkshire, RG7 1WY, England.
Tel: +44 (0)118 988 0288 Fax: +44 (0)118 988 0388.
Email: tim.jennings@mjpr.com                                                                          
Web site: http://www.mjpr.com
Connect.
Enclose.
Innovate.
For further information on products please contact our Sales Team:
Alternatively visit our distributors page to find your nearest stockist or download the latest CamdenBoss catalogues.